Brassy young eagle enthralls folks in backyards
Monday, June 24 2013 @ 05:47 AM EDT
Contributed by: MaryF
By Mary Reid Barrow
Virginian-Pilot correspondent
© June 23, 2013
HamptonRoads.com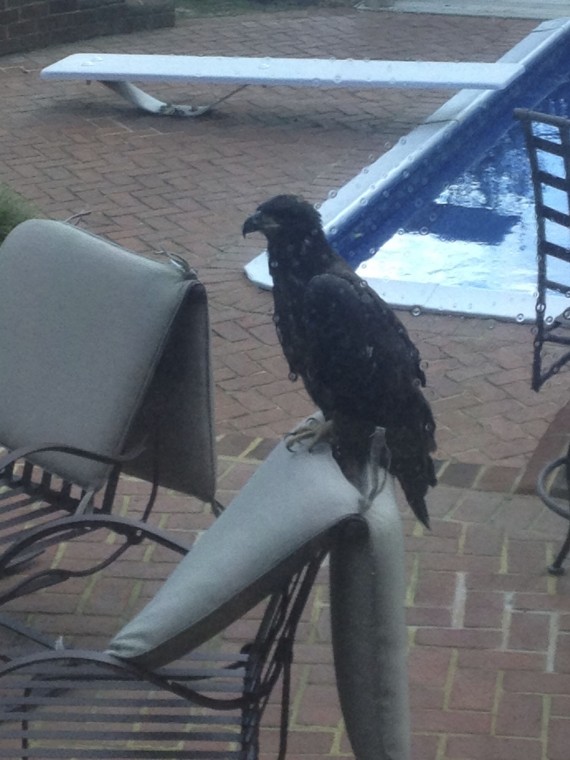 A juvenile eagle seems to enjoy perching on Dick Thurmond's patio
furniture in Thoroughgood. (Dick Thurmond)
A YOUNG BALD EAGLE not long out of its nest has turned a few Thoroughgood yards into its own private playground.
Whether perching on a deck, sitting poolside on a chair, checking out the grill, walking around a shed roof, pecking for insects in the yard or learning to spar with the ospreys, this youngster has had the humans that live there entertained for days.
The big bird in its dark juvenile colors may as well have been a robin for all the familiarity it showed with humans and their gear.
"He is amazing," said Pamela St. Clair, one of the eagle's fans, "and very tolerant of us humans walking about gazing at him and taking scores of pictures!"
Dick Thurmond, who lives nearby, was worried at first that the youngster was hungry because it began picking at a cushion in a chair by his pool.
Read the rest of the story HERE