Norfolk's eagle babies get their braclets
Tuesday, June 23 2009 @ 09:21 PM EDT
Contributed by: Anonymous
Wednesday, May 27, 2009
NORFOLK, Va. (AP) — Scientists have attached a satellite tracker to a baby bald eagle nesting at Norfolk Botanical Garden.

The female bird now has a 2.5-ounce backpack transmitter that will allow College of William & Mary scientists to follow her for three years and learn about eagle roosting and migration as well as eagle ecology around the Chesapeake Bay.

The college's Center for Conservation Biology already is following 65 transmitter-outfitted eagles in the upper bay area; the eagle outfitted Wednesday is the first in the southeast Virginia area.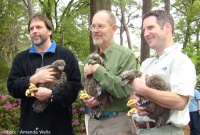 The babies in Norfolk's famous bald eagle family got their braclets this morning - identifying them for a lifetime.
Biologists took the three rapidly-growing eaglets from their nest at Norfolk Botanical Garden and put the silver-colored bands on each of the three youngsters After a quick photo, the three quickly were put back into their nest and attended to by mom and dad.
REST OF STORY HERE
http://hamptonroads.com/2009/04/norfolks-eagle-babies-get-their-braclets